Black Rhino Marketing
Welcome to Black Rhino and thank you for visiting! We supply corporate logo apparel and promotional products. Clients use us for corporate or employee gifts, events, brand identity, employee incentives, trade show items, branded apparel, awards, and much more. Not sure what you're looking for? Call us or email info@blackrhinomktg.com, we are glad to provide you with lots of ideas.
Featured Item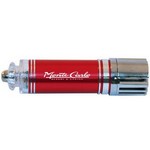 Car Air Purifier
Effectively remove smoke, dust and air pollutants with this filter from your vehicle. Kills bacteria and viruses, eliminates unpleasant smells, while increasing concentration and relieving fatigue at ...
$11.01 - $14.41
What Our Customers Are Saying

I have enjoyed working with Black Rhino Marketing for over four years. They are exceptionally professional and responsive to our needs. We often ask a lot of them on very short notice and I trust th...
Ildiko Geuss, Project Manager
NANA Development Corporation
Dec 20, 2013